Shoutbox
August 08, 2018, 02:38:10 am
suzytr
says: Hello, any good churches in the Sacto, CA area, also looking in Reno NV, thanks in advance and God Bless you

January 29, 2018, 01:21:57 am
Christian40
says: It will be interesting to see what happens this year Israel being 70 years as a modern nation may 14 2018
October 17, 2017, 01:25:20 am
Christian40
says: It is good to type Mark is here again!

October 16, 2017, 03:28:18 am
Christian40
says: anyone else thinking that time is accelerating now? it seems im doing days in shorter time now is time being affected in some way?
September 24, 2017, 10:45:16 pm
Psalm 51:17
says: The specific rule pertaining to the national anthem is found on pages A62-63 of the league rulebook. It states: "The National Anthem must be played prior to every NFL game, and all players must be on the sideline for the National Anthem. "During the National Anthem, players on the field and bench area should stand at attention, face the flag, hold helmets in their left hand, and refrain from talking. The home team should ensure that the American flag is in good condition. It should be pointed out to players and coaches that we continue to be judged by the public in this area of respect for the flag and our country. Failure to be on the field by the start of the National Anthem may result in discipline, such as fines, suspensions, and/or the forfeiture of draft choice(s) for violations of the above, including first offenses."
September 20, 2017, 04:32:32 am
Christian40
says: "The most popular Hepatitis B vaccine is nothing short of a witch's brew including aluminum, formaldehyde, yeast, amino acids, and soy. Aluminum is a known neurotoxin that destroys cellular metabolism and function. Hundreds of studies link to the ravaging effects of aluminum. The other proteins and formaldehyde serve to activate the immune system and open up the blood-brain barrier. This is NOT a good thing."
http://www.naturalnews.com/2017-08-11-new-fda-approved-hepatitis-b-vaccine-found-to-increase-heart-attack-risk-by-700.html
September 19, 2017, 03:59:21 am
Christian40
says: bbc international did a video about there street preaching they are good witnesses
September 14, 2017, 08:06:04 am
Psalm 51:17
says: bro Mark Hunter on YT has some good, edifying stuff too.
September 14, 2017, 04:31:26 am
Christian40
says: i have thought that i'm reaping from past sins then my life has been impacted in ways from having non believers in my ancestry.
September 11, 2017, 06:59:33 am
Psalm 51:17
says: The law of reaping and sowing. It's amazing how God's mercy and longsuffering has hovered over America so long. (ie, the infrastructure is very bad here b/c for many years, they were grossly underspent on. 1st Tim 6:10, the god of materialism has its roots firmly in the West) And remember once upon a time ago when shacking up b/w straight couples drew shock awe?
Exodus 20:5 Thou shalt not bow down thyself to them, nor serve them: for I the LORD thy God am a jealous God, visiting the iniquity of the fathers upon the children unto the third and fourth generation of them that hate me;
View Shout History
Shoutbox History
October 21, 2016, 10:49:17 am Mark says: who??
October 16, 2016, 08:19:00 pm Psalm 51:17 says: Christian40, Check your email
October 05, 2016, 09:39:13 pm christistruth says: God's creatures are so beautiful.
October 04, 2016, 08:39:59 am christistruth says: Oh



Let's hope America gets back on track.
October 04, 2016, 03:19:21 am Christian40 says: that verse is for Israel not America i learnt that the other day
October 03, 2016, 05:24:20 pm christistruth says: I agree with Bryan in his "Imminent Martial Law" video that it's likely too late for this change to happen.
October 03, 2016, 05:23:42 pm christistruth says: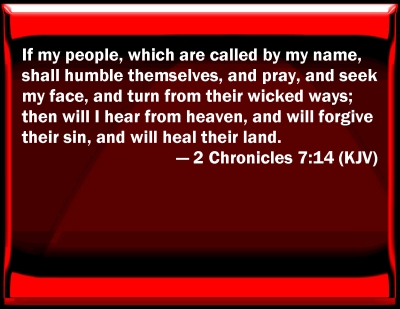 September 23, 2016, 10:37:16 pm FervorForFaith says: I don't know if any of you guys still watch Staying Focused For Jesus, but I'm done with his videos all together now. In his video, "Obama Isn't Trying to Take The Guns, No Gun Control" he outright denies the Holocaust and implies that the Jews aren't really Jews. He called the Jews that died in the Holocaust "alleged Jews" and said that it "wasn't 6 million" that died. Then he regurgitated the same lies about the Holocaust that Steven Anderson spouts. I think the constant conspiracy searching has seriously messed with his ability to reason. Beware of him!
September 20, 2016, 01:54:27 pm Psalm 51:17 says:
August 19, 2016, 02:02:05 am Christian40 says: A belated congratulations!
August 15, 2016, 08:00:10 pm Mark says: 7.2 lbs
August 15, 2016, 07:42:52 pm Psalm 51:17 says: Congratulations, Mark! How much does he weigh? (Not trying to sound nit-picky, but just asking)
August 15, 2016, 05:56:34 pm Mark says: Haven't been on lately, had to welcome to the world my first grandson. Alexander..
August 15, 2016, 09:36:10 am Psalm 51:17 says: Did anyone see the Donald Trump "American Pride" campaign ad above this shout box today? Ezekiel 16:49...
July 21, 2016, 10:20:19 pm Psalm 51:17 says: Did anyone catch how Trump said he wants to protect the sodomite crowd against religious "ideology"? (IOW, didn't think he was exposing Islam, alone that is)
June 27, 2016, 02:19:50 pm Psalm 51:17 says: "

Relief from the divine affliction was all they cared about. It is ever thus with the reprobate. With Pharaoh, as each fresh plague descended upon Egypt he sent for Moses and begged him to pray for its removal, and as soon as it was removed he hardened his heart and continued to defy the most High

. Unless God is pleased to sanctify directly to our souls His chastisements, they profit us not. No matter how severe His judgments or how long they be protracted, man is never softened thereby unless God performs a work of grace within him. "And they gnawed their tongues for pain, and blasphemed the God of heaven because of their pains and their sores, and repented not of their deeds." (Rev. 16:10,11)....Nowhere is the awful depravity of human nature more grievously displayed than at this very point....A later prophet in Israel complained of the people in his day for manifesting this vile temper: "O Lord, are not Thine eyes upon the truth? Thou hast stricken them, but they have not grieved; Thou has consumed them, but they have refused to receive correction: they have made their faces harder than a rock," (Jer. 5:3).

From this we may see how utterly absurd and erroneous are the teachings of Romanists on purgatory and of Universalists on hell. The imagined fire of purgatory or the real torments of Hell possess no purifying effect, and the sinner under the anguish of his sufferings will continually increase in wickedness and accumulate wrath to all eternity."

~ Arthur Pink, "The Life of Elijah"
June 15, 2016, 09:45:20 pm Mark says: Luk 14:34 Salt is good: but if the salt have lost his savour, wherewith shall it be seasoned?
Luk 14:35 It is neither fit for the land, nor yet for the dunghill; but men cast it out. He that hath ears to hear, let him hear.
June 15, 2016, 12:45:07 am Mark says:
June 13, 2016, 05:48:27 pm Mark says:
June 12, 2016, 06:54:56 pm tennis shoe says: Psalm 34:21-22
Evil shall slay the wicked: and they that hate the righteous shall be desolate. The Lord redeemeth the soul of his servants: and none of them that trust in him shall be desolate.
June 08, 2016, 10:25:10 am Psalm 51:17 says: https://www.youtube.com/watch?v=oBF7i8LbUv0
June 05, 2016, 03:56:44 am Christian40 says: 1 Corinthians 2:9 But as it is written, Eye hath not seen, nor ear heard, neither have entered into the heart of man, the things which God hath prepared for them that love him.
May 29, 2016, 06:56:20 pm tennis shoe says: "WHY are you watching YouTube, and NOT reading your bible?"

For the same reason that people go to church, listen to a sermon, but also never crack their Bible to see if what the pastor is saying lines up. Many churches encourage this behavior from their members. And it's been happening since the beginning. The Spirit of Truth is critical to survive the tremendous onslaught of deceit I see happening in the world right now. Christians are being heavily tested.
May 29, 2016, 12:21:19 am Christian40 says: if they are not Christian then they will enter the great trib period and be tempted to take the mark
May 27, 2016, 10:15:38 pm Psalm 51:17 says: In a few of James Knox's sermons - he said how he's been approached by people every now and then over how they saw YT videos of people saying we're going through the 7 year great tribulation period. Knox's response was, "WHY are you watching YouTube, and NOT reading your bible?". It seems like a lot of these YT "Christians" live in the comfort of their home, drinking a glass of cold ice tea, while having the power of that built-in mic at their fingertips. But en yet, like Knox said, these same people wouldn't stand a chance if they had a power outage in their area for a mere weekend.
Pages: 1 2 3 [4] 5 6 ... 432